活動通知 Latest News:
2016烤肉野餐將於九月二十四日早上十點半 Wheaton 公園舉行(A亭), 請看活動內容 2016 Barbecue Picnic will be held on September 24th, 2016 at 10:30AM, at Wheaton Regional Park(Shelter A). Please click to see program details. The following picture was taken at last year picnic.click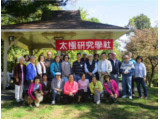 太極研究學社屬下各個分社的 春季班 分別於1月22日開課 (週三夜班- Wootton HS 是全年班已於9月7日7:45PM-9:15PM開課) . All ITCA chapters Spring 2017 classes will be openned on January 22nd, 2017 (Weekday Evening Class is whole year class already openned at Wootton HS started on 9/7/2016 , every Wednesday evening at 7:45PM).

2016年太極拳夏令營已於7月30日完滿結業, Summer Camp completed on July 30th, 2016.
因氣候因素停課通知 School Closing due to Inclement Weather
蒙郡公立學校 Montgomery County Public Schools
電話 Telephone: 240-777-2706
網址 Website: http://www.montgomeryschoolsmd.org/info/emergency/
郝郡公立學校 Howard County Public Schools
電話 Telephone: 410-313-6660
網址 Website: http://www.hcpss.org/news/weather.shtml
費郡公立學校 Fairfax County Public Schools
網址 Website: http://www.fcps.edu
---
---
The Disclaimer: Information from this server is solely as reference for non-commercial use. Any copy of these documents or portion thereof should include this notice. THE USER NOTES AND OTHER PUBLICATIONS ARE PROVIDED "AS IS" WITHOUT WARRANTY OF ANY KIND, EITHER EXPRESSED OR IMPLIED, INCLUDING, BUT NOT LIMITED TO, THE IMPLIED WARRANTIES OF MERCHANTABILITY, FITNESS FOR A PARTICULAR PURPOSE, OR NON-INFRINGEMENT. Some information are copied from other WEB resources and appropriate copyrights could be applicable.